Automaic Filling & Foil Cap Forming Machine
Automaic Soy Milk Filling & Foil Cap Forming Machine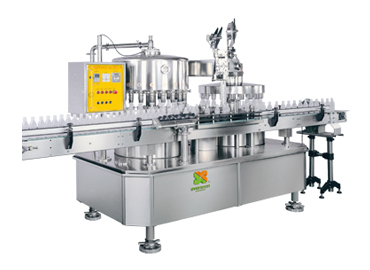 Using Filling & Foil Cap Forming Machine, filling Soy milk to bottle and sealing with aluminum foil. This way is avoiding bacterium into inner of bottle and extending the shelf life.
According to customers' request, we provide two types for you to choose. After filling Soy milk and foiling seal, you can choose Screw Cap Machine or Pressing Cap Machine to finish package process.
Features
Sealing is quick and effective even though the bottle mouth is stained with grease or dust.
The auto foil detecting and foil bottle rejecting device will give an auto warning and remove the cap once it is detected without foil, to avoid non-sealed foil products outflow the production line. (This is optional).
The machine is easy to operate and equipped with protective devices for overcurrent, overvoltage and output overload.
It can be applicable for containers of various sizes just by simple setting and adjustment.
Specification
Customized design by customers' capacity request.
Applications
适用于豆奶、牛奶产品。
Services
Yung Soon Lih provides 24-hour online consultation, cooperates with engineers to solve customers' problems by the remote operation, saves people's round-trip time and labor cost, and solves customer problems in a timely and rapid manner.
In addition, food manufacturers who just started their business or expanded their factories, our senior engineers will go to the company site to survey and help you to planning the layout. In the past 30 years, Yung Soon Lih had built up a good partnership with our global customers like Czech Republic, Poland, Canada and also transfer the technical know-how of produced soy milk and tofu to our customers. We were committed to becoming turnkey solution provider.
Files Download

---
Press Release
最新调查显示Spain's plant meat industry's sales have increased by 31% in the past two years

豆腐市场是由健康的好处f tofu. Tofu is one of the world's most concentrated sources of high-quality vegetable protein. The frozen, dried tofu has twice the protein...

Read More

2020-2024 Health benefits of tofu will increase market demand

豆腐市场是由健康的好处f tofu. Tofu is one of the world's most concentrated sources of high-quality vegetable protein. The frozen, dried tofu has twice the protein...

Read More

Being vegetarian is no longer a slogan! Social media encourages young people to change their eating habits,Flexible vegetarian food occupied for 42% of the world's population!

简而言之,这些都是recommendations of the new Canada's Food Guide, released Tuesday after years of consultation and discussion with almost everyone — except the food industry.
It...

Read More